White water rafting is a fun adventure! It gets your adrenaline going and exhilarates you as you get the ride of your life in a twisting and turning river. Not to mention the beautiful Costa Rican scenery that surrounds you in this thrilling experience.
Although it is not common, sometimes accidents and tragic moments do happen while on rafting trips – in any part of the world. However, we at Wave Expeditions are committed to the safety of our guests and workers, which is why we want to share some guidelines and information that will make you not only more comfortable with rafting but, also how to be safe in the water.
First of all, did you know that compared to other activities, rafting injuries are not nearly as high as hiking, surfing or horseback riding? (Data compiled in New Zealand.) And we can assure you that although accidents can happen, they are infrequent.
Some simple things to consider are that you need to choose a river grade that is right for you. Listen to the guide when he/she provides instructions and signals that you will be needing throughout the rafting trip, and then, comply with these instructions. Keep your helmet and life jacket on and securely fastened while on the raft.
There is an international white water rafting grading system which helps you determine what is the best river for you. There are six grades overall, and please keep in mind things can change if there is a decrease or increase of water flow or changes in the topography.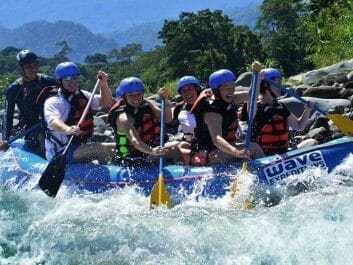 The first grade has small, regular waves with an easy voyage to navigate. Some care may be needed if obstacles arise on the way. For grade 2, we can find waves that are less than a meter tall, low drops and easy whirlpools, and the path mostly unobstructed. Grade 3 has higher waves (1-2 meters), stronger whirlpools and exposed rocks, and this passage may be harder to maneuver. A fourth grade rapid is difficult with irregular and powerful waves, ledges, drops, stoppers, and precise maneuvering is important. A grade 5 has confused, broken water, violent currents, abrupt turns, many obstacles and there is a definite risk to personal safety. Lastly, a grade 6 rapid has all the same difficulties but at an increased level and only a few experts can face them.
Wave Expeditions has been functioning for more than a decade and it has grown to one of the top-rated rafting enterprises in Costa Rica. Each one of Wave Expeditions' river guides are certified in first aid and rescue, they have vast experience and consider your safety first. They will provide helpful techniques to use on the raft before boarding and, once in the water, they will direct you with confidence. They will also make sure that the equipment is fastened and that it is right for each guest. If there is a marked excess or decrease in water, harsh weather conditions, or there are other circumstances that will make the trip too risky, we will forgo the trip. Our minimum age limitation is set with your security in mind. Also, we have insurance to cover you in case of an accident.
Every one of our guides is trained to provide a safe trip for all, so know that when you raft with Wave Expeditions you are in good hands!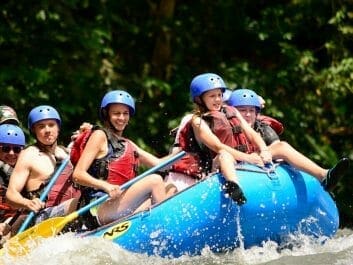 And remember, not only will you enjoy an unbelievable experience, but rafting can provide many benefits. White water rafting is an extraordinary rush, so you are focused on the excitement rather than the physical exercise, and it reduces your stress levels while you soak in the nature during those slow-moving times in the water. Also, it boosts your self-esteem to know you can conquer this challenge, and it is a great bonding experience for families and teammates. Since it is exercise, you will strengthen your upper body muscles as you fight the river and the endurance will be a great cardio workout!
If you have any questions you can feel free to contact us. We are happy to help you make the most out of your Costa Rican rafting trip!
Wave Expeditions